with PHELIM O'NEILL                                                         and CONOR MCELDUFF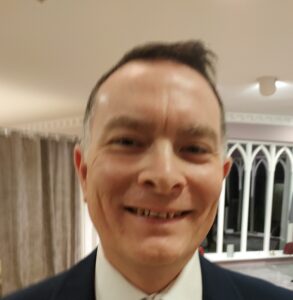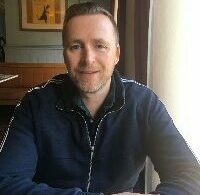 There are no prerequisites for this course. It is also suitable for non-IBA members who are body workers, e.g. massage therapists, physiotherapists or osteopaths. This course has 16 hours for the requirements of certified bodytalk practitioners.
Description:
I exist everywhere in your body and can do anything you need me to do. I am guided by an innate wisdom that has me take form in very specific ways. It seems that the physical parts of the body take my lead and do what I do. I am your Energetic Body. Some can see and feel me clearly, while others struggle to connect. It is those who can sense me with ease that help me shift and change. By connecting to me, you can assist in creating profound change in the structure and organization of the body.
This course helps to mold and develop the Energetic Sense—the ability to tune into, observe and surrender to the energetic bodymind. This is a highly coveted skill that makes the difference between an average BodyTalker and an excellent one.
The course is be a combination of lectures and practical. As you develop and refine your Energetic Sense, you will be able to work with tremendous focus and clarity to shift and influence the physical structures of the body. Part of working with and repairing bodily structures also requires a deep understanding of the energy and consciousness of water, which this course will explore. Water. Consciousness. Energy. Focus. Structure. Function. These concepts are all more deeply connected and related than you know. This course will help you understand why and learn how to put that understanding into powerful practice
Upon completion of this course, the student will be able to: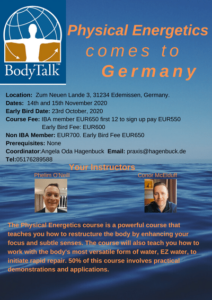 1. Utilize the subtle senses more deeply and effortlessly through fun techniques.
2. Practice the skill of focus, learning to become one with the energetic body.
3. Learn how to surrender to innate wisdom and describe change in the body.
4. Enhance their ability to support significant physical change via the energetic body.
5. Utilize techniques for realigning the two halves of various brain and body parts.
6. Understand water as the body's healing mechanism to repair damaged structures.
7. Utilize EZ water to restructure the body's crystalline matrix.
8. Implement new techniques as part of the BodyTalk toolbox.
9. Fine tune the implementation of BodyTalk tools and techniques that already exist.
In the unlikely event that the course is cancelled or postponed, we will notify you by 23 October 2020. Please contact the coordinator for information about the venue, travel and accommodation
For cheap overnight stays on site, please inquire.
Begin: 9:00 AM
End: 6:00 PM
Price: 650.- Eur
Discount

:
There will be an introductory price of EUR 550 for the first 12 students fully registered and paid. After this first 12, an Earlybird price of Eur 600 will apply to those who fully register and pay up on or before 23rd October 2020 and thereafter the full rate of Eur 650 will apply. Monitors: A 75% discount applies to those monitors who are IBA members. To non-members the discount is 50%. Non IBA members wishing to do this course will pay EUR 700. However, if fully registered and paid on 23rd October 2020 the price will be Eur 650.